Private Gyms and Online Coaching For
Executives, Entrepreneurs, And Professionals
When your goal is to build the best businesses in the world, you need your energy and performance to be on point without having to think about it.
As our client you have your own coach, who individualizes everything to your needs. Your schedule, your preferences and great results.
Click the button below to book a free intro session to meet your coach and find out how the top executives and entrepreneurs train so they stay on top.
What you get when you join the unit
This is the recipe our hundreds of clients use to get back their energy, a body that feels good and the ability to handle stress.
1

 A personal performance coach

When you are busy, you need to outsource the things you can. With us you will be coached in and outside of the gym by a personal performance coach. We allow only 15 clients per coach compared to the many dozens that normal PT's often have. This way you get the attention you need to get to your goals.
2

Weekly coaching sessions

Consistency is the key to results. With weekly sessions you know you get effective training sessions every week, and your coach stays on track with your progress. Don't worry, we have the busiest executives training even 5 to 6 times a week. We know how to get you doing couple of sessions every week.
3

Fully customized training plan

We take your individual needs seriously. We do simple but effective tests on your mobility, breathing, heart health and body composition. This way we create the best possible plan with you in mind.
4

Nutrition coaching

Bad eating habits combined with high stress ruin your health. Your coach is educated in making your current habits better. No 4-week magic diets, but solid habits that make you feel, look and perform better for years. The best part is you don't have to count calories or weigh your food, everything is super easy.
5

Communication and help

You have 24/7 contact your coach if you need it. You have access to our private Facebook group where you get answers to your questions from our CEO Aaron and other coaches.
6

Training app

We make sure you know you are making progress. You get access to our training app where relevant data is tracked. When objective measures improve, you know you are improving.
7

Access to our gyms

You don't always need to train with a coach. You get a key card to our gyms, so you can train by yourself when you want, from the earliest morning to the latest evening. Fresh towels and workout drinks are always ready for you.
8

Flexible scheduling

You can travel or be sick, that's not a problem. We specialize in being as flexible as possible. For example you can be in Finland only 6 months a year and we can make this work.
9

No commitments

You leave when you want. There are no package deals. You pay for what you use. This way we know that when you stay with us, you stay for the service, not because you are stuck in a package deal.
What our clients say about Training with us
We are proud of our clients. Here are some of their comments about us.
Marko had a literally crushed ankle. Now he can downhill ski!
Jussi got rid of his shoulder pain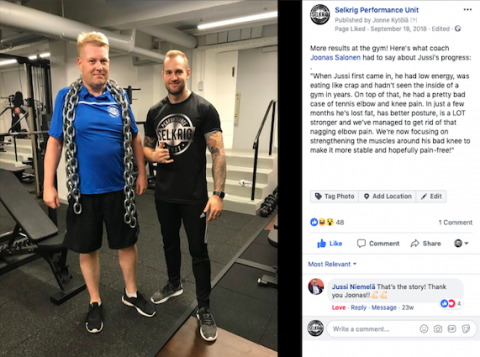 Jaakko got his already intense training to the next level





Check out Eka's (Hasan & Partners Group CEO) interview
Samuli found his motivation and improved fast
Erik made exercise part of his lifestyle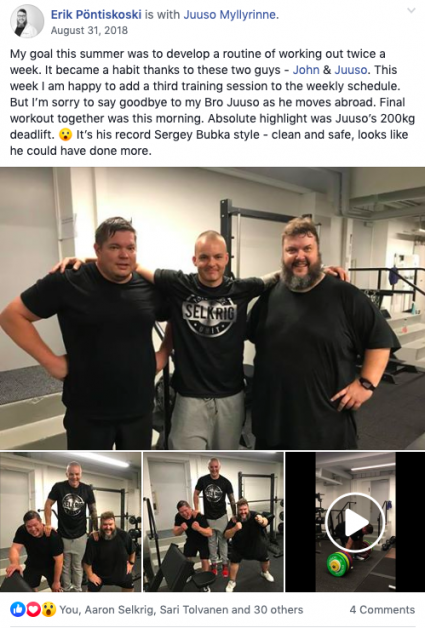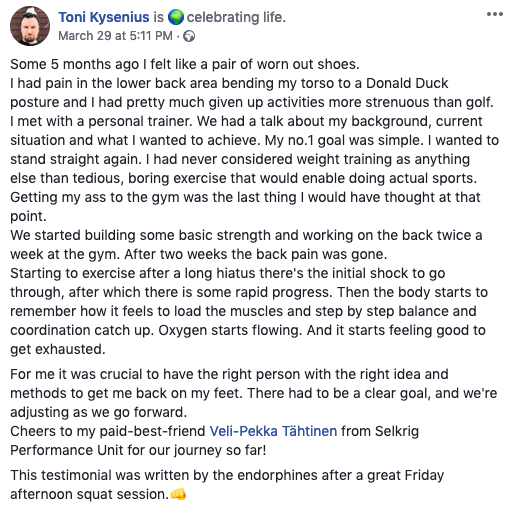 You've read this far. Over half of the people come to an intro session join the Unit. Everyone who joins get results. Book your session now from the button below. See you at the Unit!